Discover Olympia and its Cycling Opportunities
By Emilie Schnabel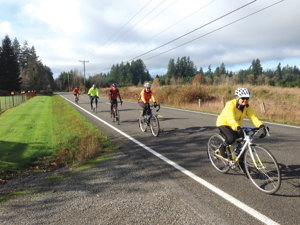 Photo courtesy of Capital Bicycle Club
The Olympia region offers multiple opportunities for road cyclists and to those who prefer spending more time in the woods.
Olympia — Washington State's capital — is uniquely positioned in the Pacific Northwest as a home for both the legislative sessions and a rich arts scene in addition to a vibrant downtown shopping district featuring an array of local artisans. The city's suburban atmosphere is dramatically set against the verdant backdrop of Capitol State Forest, Mount Rainier and the waters of Budd Inlet and Capitol Lake. The beauty of the natural landscape, combined with the historic downtown corridor, will strike those who visit Olympia for the first time. New and old architecture lend the city center a funky, fun vibe. The town center provides easy access to urban and forest trails while also being positioned within one to two hours of both mountains and the Pacific Ocean, offering opportunities for a multitude of outdoor recreational activities. In addition to a very active running scene, the area is known for its bike-friendly atmosphere and access to commuter and mountain biking trails.
Officially incorporated in 1859, Olympia has long been a seat of commerce. It's situated one hour from its more famous northern neighbor, Seattle, and two hours from Portland to the south. Located on the tip of Budd Inlet, Olympia features a port district that, like many of its neighbors, was known for its lumber industry. Budd Inlet was also a shellfish gathering location for many local indigenous tribes. Also like Seattle, the city played a significant role in the development of grunge music and boasts a house where Kurt Cobain stayed during the early part of his career.
Olympia and the surrounding cities of Lacey and Tumwater feature an array of interconnected biking trails that make urban cycling a breeze in addition to a copious amount of bike lanes for road travel. Most notable is the Chehalis-Western Trail, which was up-cycled after outliving its use as the Chehalis Western Railroad. It is a 22-mile trail open to walkers, runners, in-line skaters and bikers and is publicly owned. It links the cities of Olympia and Lacey and also runs all the way to the small city of Yelm by connecting to the 14.5-mile Yelm-Tenino Trail. The final Lacey portion of the Chehalis-Western was completed in 2014 through a program called "Bridging the Gap" and features several pedestrian bridges that allow bikers and walkers to bypass the traffic on major roadways as well as the busy highway. The trail features directional signs, benches, mile markers, and offers many outlets that connect to highly-frequented road biking lanes and public parks. There are four trailheads that offer parking, restrooms and picnic facilities. On any given day both recreational and competitive cyclists can be found using the path.
Connecting the Chehalis-Western to downtown Olympia and the Port of Olympia area is the Woodland Trail, a five-mile wooded section that links the outskirts of Lacey to Eastside Street in downtown Olympia. This trail also features benches and mile markers and is slightly narrower than the newer Chehalis-Western. Paralleling the Woodland Trail is a shorter three-mile I-5 Bikeway, which takes riders from the Capitol campus in Olympia to Lacey City Hall. Thanks to the combination of these 30 miles of trails, urban cycling in Olympia is popular, convenient and relatively safe.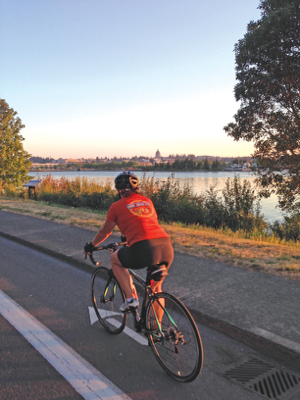 Returning to the city with the state capital building in the background.
The Olympia Department of Transportation (ODT) endorses a bike-friendly community and offers many resources to cycling commuters. Maps of local bike trails and bike parking are available through their office in addition to pamphlets that highlight Washington State cycling laws and an Urban Road Guide that features advice for new riders. As part of the "Light Up Olympia" program, volunteers hand out lights and reflective straps to bicyclists on the city trails during the darker winter months; furthermore, complimentary bike registration is offered to all residents and free bike helmets are available for low-income families. Although competitive bikers using the trails to log miles may not need the services, these resources make new cyclists feel welcome and prepared. Olympia also takes part in the annual Bike to Work Month each May, encouraging residents to save fuel emissions through biking by issuing prizes for miles completed. According to the Department of Transportation, in 2014 participants rode a total of 110,859 miles during the month-long event.
Commuting and road riding are not the only draw for cyclists in Olympia — mountain biking access is readily available in state and local parks. Capitol State Forest, adjacent to Olympia's downtown, features off-road loops for all skill levels ranging from 5 to 46 miles and totaling around 300 miles of trail as well as 160 miles of logging roads. While equestrian and motorcycle traffic is prohibited during the wet winter months, gravel grinders and mountain bikers are permitted to use the trails year-round. The view from the top of Rock Candy Mountain encompasses surrounding lakes and forests, the Pacific Ocean, Mount Rainier, and the Cascade Mountains; on a clear day it is rumored that downtown Seattle is also visible. Other trails provide elevation gain up to 2,000 feet in as little as eight miles. One of the most popular sections in Capitol Forest is the Peak Trail, a nine-mile direct line to the astounding vista. Keep in mind, a Washington State Parks Discover Pass is required for all visitors to Capitol Forest.
True to its artisan roots, Olympia is home to several locally-operated bicycle shops including: Bike Tech, Old Time Bicycle, The Bike Stand, Joy Ride Bikes, Stevenson Custom Bicycles, and OlyBikes. Many of these shops offer not only bike sales, maintenance and repair, but are also involved in the local cycling community, donate to the Friends of Capitol Forest fund, in addition to participating in local festivals and cycling events.
Bill Stevenson, president of the Capital Bicycling Club (CBC), operates Stevenson Custom Bicycles with his son. He is the perfect example of cyclists in the Olympia area, riders who are invested in the community, excited about biking, and welcoming to all. An avid rider for all of his adult life, Stevenson loves cycling because, "It's one of those things that's fun and good to do at the same time — and there's not a lot of those." According to him, the Capital Bicycling Club has roughly 300 members and welcomes riders of all ability levels and interests. The club is one of the primary supporters of Bike to Work Month and represents road cyclists in the area. In addition, CBC offers fitness classes and a multitude of weekly rides for all skill levels throughout the year in addition to running a youth cycling program. When asked about the demographics of the club, Stevenson says that they are inclusive of all types of riders. Of the Olympia biking scene, he adds that there are enough types of cycling meet-ups happening that most anyone could easily to find a group that they'd fit in well with.
Focused on advocacy and recreational riding, Capital Bicycling Club annually hosts the Two-County Double Metric Century, which features a family-friendly 11-mile route, the more challenging 127-mile loop and four additional intermediate distances. Scheduled for June 28, 2015, organizers have revamped the courses and added food, activities and entertainment to the finish line celebration. It is a favorite amongst cyclists preparing for the Seattle-to-Portland (STP) since it covers similar ground in Thurston and Lewis counties.
The competitive side of cycling is also well represented in Olympia, with road and mountain bike events held regularly. In its 9th year, the Capitol Forest Classic (August 29-30, 2015) offers two epic 100% singletrack courses and is one of the region premier off-road festivals. Catering to riders of all ages and levels of ability — from beginners to experts — the two-day celebration staged at Fall Creek features cross-country and enduro races as well as the Northwest All Mountain Championship, which will test the endurance of participants competing in both events. The race is organized by the Friends of Capitol Forest, a non-profit group dedicated to trail preservation and development in the region.
The Olympia Orthopeadic Associates Cycling Team and the newly formed Olympia Cycling Team are two clubs that support competitive road, track and cyclocross athletes in the region. Event-wise, the last weekend in May sees road racers from all around the Pacific Northwest converge on the area to take part in the Capital Stage Race, a 3-day high-energy event where spectators can witness the fast pace and tight bike handling skills of racers aged 10 to 60+. Other opportunities to see the action include the Boston Harbor Circuit Race (August 8, 2015) and the Deschutes River Cyclocross race presented later in the fall in Tumwater.
Whether a competitive or recreational cyclist, Olympia offers something for everyone. The ease of access to biking lanes and paths as well as mountain biking opportunities nearby makes the area a convenient and exciting place for locals and visitors alike. Support in the community keeps cycling a priority in Olympia and helps maintain year-round riding. Visiting cyclists should pop into a bike shop for an updates on favorite trails or local bike-friendly events and then explore the town and its surroundings from the best possible view — on the seat of a bike.