Joining Forces to Get More Women on Bikes
By Üma Kleppinger
In a city known for its bike-centric lifestyle, where bike shops and frame builders are a stone's throw in any direction, it's hard to stand out from the crowd. Unless, of course, the part of the crowd you're talking to are the ladies in the house. And that's exactly what Sweetpea Bicycles and Gladys Bikes are doing with a new partnership to promote, support and supply women cyclists.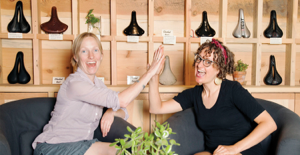 Photo courtesy of Üma Kleppinger
Natalie Ramsland (left) of Sweetpea Bicycles and Gladys Bikes owner Leah Benson celebrate a new partnership to get more women on beautiful, functional, and perfectly fitted bicycles.
Gladys Bikes recently grabbed headlines as the recipient of the 2014 Interbike Award for Best Women's/Female Friendly Bike Shop in the country. This honor is not only well deserved, but also serves as recognition of the increasing demand for women's-specific bikes and cycling goods. While an increasing number of shops are beginning to add more women's bike brands and goods, only a handful are women-focused and women-owned.
Sweetpea Bicycles' owner Natalie Ramsland has been working with Leah Benson since Gladys Bikes opened in 2013, with Ramsland supplying professional bicycle fitting services at the Gladys Bikes fit studio.
As of October 2014, this relationship has expanded, as Gladys Bikes agreed to become the sole independent dealer of Sweetpea Bicycles. The two share a common goal of getting more women on great bikes that fit properly, enhancing each rider's enjoyment, comfort, and safety.
"My mission is getting more women on bikes that fit them perfectly," reports Ramsland. "Working with Gladys Bikes has been a wonderful opportunity to learn from a greater variety of female cyclists than the typical custom bike buyer."
Ramsland started Sweetpea Bicycles in 2005, designing and building custom bikes for women. Based in Portland, the company and brand reputation grew quickly, leading to national sales and a move toward semi-custom bikes, allowing purchasers to own a women's-specific hand-built bike, without the long wait for a complete custom fabrication.
With clever names like the "Little Black Dress" and "Boom Boom," they capture women's fancy through smart, sophisticated branding and also deliver a fantastic ride imparted by quality handcrafted steel frame designs. They are sold as complete or frame only with options for road, 'cross, step-through and urban/commuter.
Through this new partnership, Benson and her team at Gladys Bikes will act as the point of contact for all Sweetpea customers, guiding them through the fit and purchasing process and building of the bikes. Gladys Bikes will also provide ongoing service and address customer questions or concerns along the way.
"It's a natural collaboration," said Benson. "Both businesses have similar goals of supporting and enhancing women's experience with bicycles. Beyond that, it doesn't hurt that we both really enjoy working with each other. We appreciate each other's approach and have a lot fun with what we do … we're excited to share that enthusiasm with our customers."
Gladys Bikes has a knack for making buying simple and delightful. Benson prides herself on ensuring that everyone who comes through the door feels welcome and comfortable, regardless of gender. So while the vast majority of customers are female, men also come to the shop for parts and service, and take part in the ongoing free maintenance classes and other offerings.
"When I reached my capacity in delivering complete custom bikes, partnering with Gladys seemed like a wonderful solution," reports Ramsland. "This change allows me to focus on fitting, designing and dreaming up new bikes while giving customers connection to a home shop and community of riders."
For more information about Sweetpea Bicycles and Gladys Bikes, visit sweetpeabicycles.com and gladysbikes.com.