Josh's Bike
By Maynard Hershon
In 1990, I bought a Lighthouse bicycle, made for me by my friend Tim Neenan, who had quite a history in cycling. Tim worked for Mike Sinyard at Specialized Bicycle Imports, as it was called then. Tim designed the first models of Specialized bike frames: The Allez, a racing bike; the Sequoia, a sporty, light tourer; the Expedition, a for-real tourer, and the first production mountain bike, the Stumpjumper. There's a Stumpjumper in the Smithsonian.
If you have one of those early Specialized bikes or frames, look at the left chainstay behind the bottom bracket. That's Tim Neenan's signature. It's on the bike in the Smithsonian too.
I loved my Lighthouse back in 1990 and I still do. Not long after I bought it, I wrote about it in my column in a sadly defunct bike racing magazine called Winning. Fine old mag. Sniff.
In Wichita, Kansas, a guy named Justin read my Winning piece and thought: "That's just what I want." He got in touch with Neenan on the Central Coast of California and ordered a Lighthouse of his own. He's still riding it today, over 20 years later.
Justin and I met at the Gourmet Century, a ride Tim and his wife Lorraine used to promote in the Santa Ynez Valley, near Santa Barbara. Tim, a chef, was friends with most of the foodies in the Valley. So the food at the stops and ride finish was wonderful. No bagel halves, thank you.
A couple of years after Justin and I got our Lighthouses, he took his son Josh to Santa Ynez to get him fitted for his own Lighthouse. That was in 1994, give or take a year. A lugged steel racing frame like Justin's and mine, Josh's is bright red. Its parts are Campagnolo 8-speed, with handlebar brake/shifters, called Ergo-Power.
Josh's Lighthouse was as nice a bike as one could buy in 1994.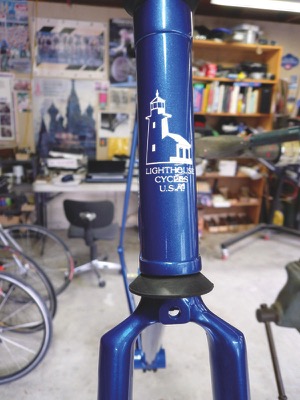 Photo by Tim Neenan
Josh rode it a bit for a year or so, then decided to emigrate to Israel, where he has made a life for himself and will presumably remain. His Lighthouse has been in Justin's basement for the 20 years since Josh left. Justin lives in Denver now, not far from Tamar and I.
Recently, they decided it was time to sell Josh's bike. Justin washed it and took a few photos of it, glistening in the sun. The handlebar stem is steel, handmade by Neenan. It and the Silca pump are painted to match the very red frame.
I asked around for Justin to see what he should ask for the bike. No one had a firm idea of how he should price it. I emailed a friend at a shop in Boulder that specializes in older "classic" bikes, who suggested that Justin bring the bike by so he could take a look.
Lighthouse, by the way, is the sort of frame that is known to riders within an, oh, 200-mile radius. Many Pacific Northwest builders are the same; they're famous in their area, but not well known elsewhere.
Some of these builders are happy that way. They're building all the bikes they want to build. Others are just not good at selling themselves or hiring someone to do it for them. Or they have no taste for marketing. They're craftspersons after all.
We don't buy frames from builders because they are terrific salesmen or women. Our reasons should have nothing to do with their marketing skills. But we've all heard of Colnago, Pinarello, Orbea and Look, and far fewer of us are familiar with Davidson, Ti-Cycles or Lighthouse. Does that mean that those lesser known builders make lesser frames? It does not. No way.
If we say that because we don't recognize the name on the frame, it can't be any good, we are responding to marketing skills, not a framebuilder's skills.
Justin took Josh's red Lighthouse bicycle to Boulder. My friend there confessed that he had never heard of Lighthouse. He said he expected that his customers would be similarly unfamiliar with the brand, thus reluctant to pay decent money for the (again, lovely) bicycle.
Justin was taken aback. He could not believe that this expert did not know Tim Neenan's name. You'd figure the guy would know all about bicycles. Remember: Justin was selling his son's bike, a bike built by an old friend with whom he's stayed in touch for over 20 years. He could not believe the guy couldn't see the loving skill of the builder everywhere he looked. Justin lost it a little.
The guy suggested that he take the bike to a man with a used camera store in a nearby town. The guy's name, first and last, were the same as Josh's, whose name was painted on the top tube of the frame. Justin put the bike back in his car and drove to the other town, where he found the camera store and the owner.
That guy had never heard of Lighthouse but could see that the frame was lovingly produced. He told Justin he'd be interested in the frame only — and at a bargain price, barely more than the pump, stem and Campy pump head are worth. Justin stayed civil but began to seethe.
When he got home, he cut and pasted Tim Neenan's biography from the Lighthouse website into an email to the guy at the shop in Boulder. He said he could hardly believe that the guy could be ignorant of Lighthouse and Tim Neenan. The guy's response was reasonable and apologetic; he wasn't aware of Tim or his bikes, and he had never claimed to be an expert.
Justin simmered for a day or so, then wrote the guy an apology of his own.
Because of the internet, I'd say, we all know lots more about lots of things. Because of the internet, it's easy for some of us to feel like experts, to know far more about bicycles than we would have back when, and in far more depth. We're all connoisseurs, educated, discerning consumers. Right?
And if we're experts, aren't the guys in the shops, particularly specialist shops, aren't they super experts? Well, they are, and they are not. They can't know everything. There's too much to know.
It was hard for Justin to look at Josh's bike as a piece of merchandise, an item that might be sold for a reasonable price to a buyer who might never have heard of the brand or its builder. But that's what the bike was going to be, an item of inventory, displayed for all to see.
I hope Justin will find a place to sell Josh's bike, a place where that fine, hardly ridden old Lighthouse will be appreciated ... and perhaps find an appreciative buyer ­— and rider.
Guys like Justin and I have so much emotion invested in our old handmade bikes, it's hard to look on as strangers treat them like thrift store silverware. Why, if that old bike could talk....
New head decal. Photo by Tim Neenan