More People Bicycling More Often: Growing Statewide
By Barb Chamberlain, Executive Director, Bicycle Alliance of Washington
Name the organization that: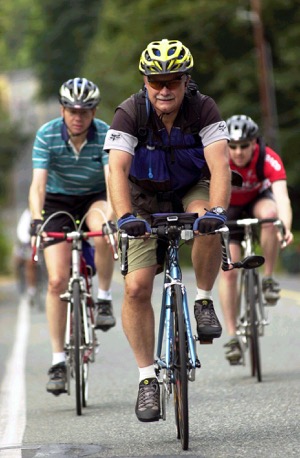 • Was the first one in Washington organized with a statewide mission focused primarily on bike advocacy.
• Worked for passage of the Cooper Jones Act that requires driver's license retesting for drivers involved in fatal or serious injury collisions.
• Worked with now-Senator Ed. Murray to create dedicated state funding for the Safe Routes to School program in 2004, then ran the first pilot programs.
• Has helped well over 20,000 kids in 31 school districts statewide learn to ride with confidence and follow the rules through Safe Routes training for educators and advocates and is doing the same for students at community colleges with direct instruction.
• Created the Share the Road license plate so cyclists can show their support for biking even when driving and at the same time help fund bike safety education.
• Helped rewrite the biking/walking portions of the drivers' education manual, got test questions added to the driver's license exam that address interactions with riders and pedestrians, and created a curriculum that's now required in driver's education programs and traffic schools.
• Assisted in the creation of local advocacy groups around the entire state, from Bike to Work Spokane (now Spokane Bikes, a part of the Spokefest Association) and the Friends of the Burke Gilman Trail to Orcas Island Pathway, Fish Lake Trail Action Group, and Friends of the East Lake Sammamish Trail.
If you answered the Bicycle Alliance of Washington for every one of these, you scored 100%. Congratulations!
These accomplishments and many more rest on the efforts of dedicated cyclists who gathered in the fall of 1987 to create a new organization with a mission far bigger than putting on a great ride (which is its own kind of challenge). They forged an advocacy organization to get "more people bicycling more often" and 25 years later, the Bicycle Alliance (BAW) continues to do just that.
The BAW's history of accomplishments and commitment to a partnership approach made a real difference for riders around the state long before we became part of a growing nationwide phenomenon. Bikes are a cool cultural symbol at last — reaching beyond the spandex image to everyday people in regular clothing. Bicycles have finally started getting included in discussions of the transportation system rather than being regarded as a purely recreational toy; the momentum is growing rapidly and that's good for all kinds of riding.
But at the same time we have to tackle some steep hills to make it increasingly convenient, safe, and enjoyable to ride a bike everywhere in Washington:
• At the local level project design decisions can make or break safety for riders. As one example, putting in rumble strips to deal with driver behavior can result in more dangerous conditions for riders. The roads are for all of us, not just for some.
• At the state level we are gearing up to achieve passage of bills that will make our neighborhood-level interactions on the street better for everyone from 8 to 88, whether pedaler or pedestrian.
• Congress cut funding for bike/pedestrian projects by 30% with the passage of MAP-21, the new federal transportation act, and they cut dedicated funding for Safe Routes to School. The transportation bill looks in the rearview mirror, not forward to the kinds of transportation choices people of all ages are increasingly saying they expect.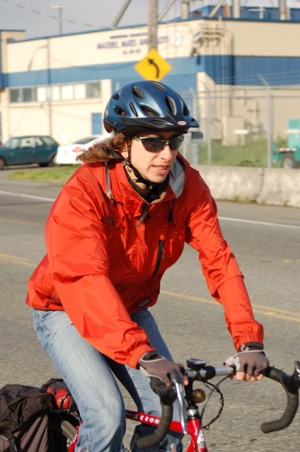 Photo by Bicycle Paper
Bottom line: We don't get to coast heading into fall. In the upcoming state legislative session much of the action will occur that can make or break opportunities for cycling in the short run. All of us need to work together with an eye on the next rewrite of federal transportation policy and funding priorities.
As a statewide organization, when the Bicycle Alliance tackles a local issue we look at the wider implications for bicyclists around the state. Just one example: faced with a threat to riding safety on the Hood Canal Bridge, we reached out to State Sen. Christine Rolfes. Blake Trask, our statewide policy director, played a key role in the shuttle diplomacy between stakeholders, resulting in a safe shoulder design for cyclists and pedestrians.
We spent four weeks of hectic negotiations with the Washington State Department of Transportation and bike advocates to bring the project forward to bidding for construction later this summer. Not only will our efforts make this project safer, it will result in a "lessons learned" manual for bridge design across the state.
Meanwhile, we've also been working with King County DOT, numerous bike clubs, and others on rumble strip use, knowing that design decisions in the most populous county in the state can have broader implications for all Washington riders.
Now we're working to ensure that Governor Gregoire makes the right choices with regard to bicycle and pedestrian funding. Congress has pushed power to the states that could result in dollars moving from our projects to highways-at the same time they drastically cut the available funding.
We've had a great ride the first 25 years. The next 25 and beyond promise to produce even more results from our work to grow bicycling statewide. We invite you along for the ride. If you want to know more about our policy and program work, check out bicyclealliance.org, follow @BikeWA on Twitter, email info@bicyclealliance.org, or call 206-242-9252.