Barriers for the Low Income Cyclist
By Clarissa Ersoz
What image comes to mind upon hearing the word "cyclist"? An urban fixed gear hipster? A spandex-clad commuter? A racer? Increasingly, individuals and groups scrutinize the characteristics that portray most bicyclists as being white and middle or upper class citizens. In community centers, cycling clubs and urban planning facilities, some are wondering why people of color and low-income households are not choosing to ride bikes more. So seemingly inexpensive and accessible, it should be ideal for minority groups. However, with a little examination, the bicycle may not create as much equality as one would think.
It would make sense for cycling to have a high percentage of mode share among low-income households since automobiles are more expensive to purchase and maintain — and congestion pricing, roadway tolls and gasoline taxes often put a larger burden on the underprivileged. And according to the 2001 study, Socioeconomics of Urban Travel by John Pucher and John Renne of Rutgers University, low-income travelers usually take shorter trips, partly because they often live near centralized urban centers, rather than the suburbs. Furthermore, the bicycle should also benefit disadvantaged individuals since it increases access to areas not easily traveled to by bus — including jobs, schools and shopping facilities.
Surprisingly, when taking into account these benefits, only 13.5% of cyclists come from households earning less than $20,000, the lowest percentage for all income groups. According to the same Rutgers University report, over half of cyclists (56.9%) earn between $20,000 and $75,000, and even those who earn more than 75k ride more often than the poorest households. So if it's cheaper than a car and often faster and more reliable than a bus, why is bicycling not being utilized by more low-income travelers? A number of barriers exist, and individuals, organizations and local governments are trying to address these issues.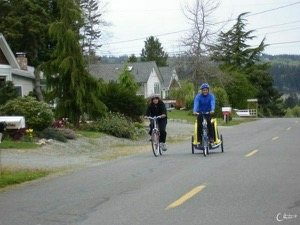 Photo by Jay Stilwell
Access, culture and perceptions can keep you off the bike.
The first problem is the cost — even a reasonably priced bike is a significant up-front expense for disadvantaged households. Though it's clearly cheaper than purchasing and maintaining an automobile, mass transit (especially buses) could be less expensive, depending upon rates, the existence of ride-free areas, and the option of reduced-price passes — an alternative which exists in many metropolitan areas.
Although bicycles require an initial expenditure and some extended maintenance costs, there are community organizations and individuals who sell reduced-price bikes or offer tune-ups and maintenance for a fraction of the regular price (or free). For example, Bike Works, a nonprofit community bike shop in Seattle that sells refurbished and affordable bikes, offers reasonably priced maintenance and donates recycled bikes to organizations that serve disadvantaged populations. Also in Seattle, Cascade Bicycle Club offers an Earn-a-Bike maintenance program that lets participants, after five weeks of training, keep the bike they worked on. Director Ed Ewing hopes other cities will implement similar systems that have "a long term commitment to change behaviors" and instill in kids that cycling is a great option for exercise, recreation and transportation. Similar groups exist all over the Northwest, including the Boise Bicycle Project in Idaho and Cool Water Bikes in Spokane, Wash.
Another organization that tries to broaden access is the Community Cycling Center in Portland, Ore., who in 2010 released the interim report, "Understanding the Barriers to Bicycling," as part of a two-year community needs assessment. The report found that 60.42% of all participants surveyed expressed concern about the cost of a bicycle, indicating such an expense would be outside their means.
In addition to access, culture can sometimes pose an obstacle. According to Socioeconomics of Urban Travel, in 2001, three fourths of the poorest households (those earning less than $20,000 annually) in America owned a car. The automobile has not only become the transportation of choice, it also signifies independence and fiscal stability, while the bicycle, to many, symbolizes poverty. As Alison Graves, executive director of the Community Cycling Center points out, "the symbolism of bicycles is multi-faceted" and "not all people of a particular background share a common perception."
Another hurdle is safety. The Community Cycling Center report identifies three areas of safety where participants expressed concern: traffic, personal and bicycle. Many articulated that they did not know or understand the rules of the road and so hesitate to choose a bike for transportation. Additionally, women feel an increased reluctance to ride due to safety concerns among other factors. According to a study done by the University of Los Angeles entitled, Is it Safe to Walk Here? Design and Policy Responses to Women's Fear of Victimization in Public Spaces, women were more likely to drive or take a taxi rather than choose transportation that involved public space. This proved especially true for minority women in low-income neighborhoods.
Cascade Bicycle Club hosts the "Major Taylor Project," an after school cycling program for the city's youth that teaches cycling safety, maintenance, and awareness. Named after Marshall "Major" Taylor, the first African American sprint champion, the program focuses on diverse and underserved communities and strives to create access and promote self-sufficiency to kids in four disadvantaged neighborhoods. Ewing remarks, "The bike can foster confidence, empowerment, freedom and accomplishment."
Finally, one of the greatest barriers may be the inequality of access, not just to a bike itself, but also to bicycle paths, facilities and information. The Community Cycling Center's equity map found in the Portland Bicycle Plan for 2030 indicates that several minority neighborhoods in Portland are underserved. For instance, the Portsmouth area, which has a median household income almost $20,000 dollars below the city's average, has a lower concentration of bike lanes and streets that have sharrows. Graves points out a language barrier on bicycle maps and guides that were until very recently printed in English only. Conversely, she also comments that there have been considerable improvements in the past couple of years. Graves applauds the Portland Bicycle Master Plan for 2030 for including an equity gap analysis and embracing this component in the plan, but she wants to ensure that future decision-making will consider bicycle access disparities and work to lessen these imbalances.
Cost, accessibility and safety are just some of the obstacles facing low-income and minority cyclists. Several organizations strive to allow access to reasonably priced bicycles and local governments are starting to implement plans to create more equal access to disadvantaged neighborhoods. Only time will tell, but improved access and more education will certainly go a long way to help create a balance between social and economic classes.