Jacob Rathe — Moving Up the Ranks
By Garrett Simmons
Ask Jacob Rathe of Portland, Ore., to summarize his ascent through the ranks of professional bike racing thus far, from his first national event at age fourteen to his current standing as a Junior World Championship competitor, and he'll likely tell you it's nothing remarkable. In some ways, he's right. Examine the steps most of today's top American racers have taken, and Rathe is right on course. Starting at the Junior 13-14 level, racing both road and cyclocross with Beaverton Bicycle Club, tasting the international circuit as a Junior Elite, and now travelling constantly to destinations like Cape Town, South Africa, and Russia, he has met competition at every new stage of the sport with his eyes fixed firmly on the next. Factor in his ongoing mentorship with one of cycling's most prolific figures, and the guy seems destined to succeed.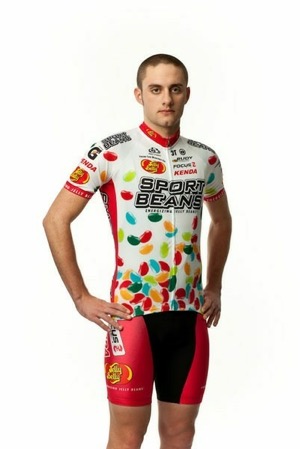 The truth is that while Rathe, now nineteen, has followed a path similar to the majority of professional bicycle racers, his name carries a level of notoriety that is anything but typical. In Oregon, of course, in the Northwest region, yes, he is consistently on the list of up-and-comers, of riders to watch. But elsewhere, too, well outside the reach of hometown hero, he is riding well in every major race he enters, repeatedly surprising himself as much as his followers, and building his reputation.
Early on, Rathe benefitted from his large, powerful physique. As an adolescent he was ahead of the curve in terms of body size — now at 6'1 and 170 pounds, the field has leveled noticeably — which enabled him to develop his sprint and climbing abilities, and gained him early experience competing at a high level. This led to several major turning points at age fifteen, including two fourth place finishes, the US Junior National Road Race and US Junior National Criterium, a second place finish at the US Junior National Track Omnium, and first place at the US Junior National Track Scratch Race. Two years later, in 2008, he placed second and fourth at two stages of the Giro di Basilicata in Italy, and took first overall at the Tour of Red River Gorge road race in Kentucky.
The successes of those two seasons did much to build his confidence as a racer, but Rathe's development has been steady since he began, and many of his most valuable experiences on his bike have taken place outside the United States.
"Overseas racing has been invaluable to my riding," he said, noting that the differences between styles of racing in America and Europe are vast. "Here," he said, "cycling is much more mainstream. There's a lot of holding back until the final sprint. It isn't that way in Europe. There, the whole race is fast, from beginning to end."
Rathe's natural gifts — sprinting, climbing and breakaway — incline him to the American style as he described it, allowing him the opportunity to simply maintain his position in the pack, saving his kick until the final mad dash to the finish line. A less dedicated rider might be content doing so, but Rathe has a broad vision of his career, and an understanding of what is required to progress. "It's difficult racing away from home," he admitted. "It takes a lot more to stay out front. But I would not be where I am today without it."
It's likely that his outlook on racing was instilled in him by his former coach and long-time mentor Oliver "Butch" Martin. At different times an Olympic athlete and coach, and a member of the U.S. Bicycling Hall of Fame, Martin's influence on the sport is undeniable. In his retirement, he extended his authority to encourage and promote promising young riders like Rathe. Also based in Portland, Martin formed CMG-Racing, now one of Oregon's premier amateur cycling teams. Rathe recalled the events leading to his first encounter with Martin.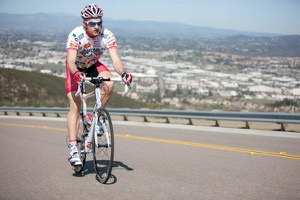 "When I was sixteen I was racing close to home a lot. He would show up at bigger races to watch. You'd see him there, walking around and talking with people. After one of my races that year, he approached me to join his Elite team. I was one of four other juniors who joined that year. I was on his team for two years and his influence during that time was just monumental."
Under Martin's direct guidance, Rathe transitioned to a new level. His first year after leaving team CMG-Racing he had one of the most notable finishes of his career so far, and one of his most unexpected. In 2009 he was one of six Americans to compete at the Junior Men's World Championship Road Race, held in Moscow, Russia. There, Rathe made a thoroughly impressive showing by placing 17th. The impact of such an achievement is not lost on him, and he described it simply, saying, "It's huge. Any recognition on the world stage is major."
Although that performance, like many others, surprised him, it's an example of what has enabled his success; he recognizes opportunities when they arise, steps up to the plate, and follows through to the limits of his ability. As Martin has commented, "He rides to win."
This season, however, as a member of Jelly Belly cycling team, Rathe is finding himself in the somewhat unusual position of supporting his senior team members. As one of the younger riders in the group, his racing strategy is often to pace his fellow riders, helping them to achieve a spot on the podium. But like every other step along his path so far, Rathe appreciates his current, and temporary, supporting role. "It's a matter of paying dues," he said, "that's part of it, but it's also an opportunity to learn and get better. It's part of the progression. I'm happy where I'm at."
It's that very understanding and expectancy of a long career ahead that makes Rathe's future so promising. He knows, from experience and from the advice of his mentors, Martin and all others, that cycling is a brutal sport and one that should be worked in gradually by those who practice it. "Mentally, it's just tough. It's hard to get up some days knowing how miserable you are going to be for the next few hours."
Though he admitted he's started drinking coffee recently to combat those feelings, he is also quick to point out how much he loves the sport. "Motivation has never been an issue," he said. "The satisfaction of doing well, the successes, even failures are beneficial in some way. I just love it."